Santiago de Compostela, 12th - 15th July, 2022.
Higher Technical Engineering School, Rúa de Lope Gómez de Marzoa, s/n, Santiago de Compostela, A Coruña, 15705
The main goal of the course is to disseminate the multiple possibilities currently offered by artificial intelligence and natural language technologies for the creation of applications and services for everyday use. Automatic translation systems and virtual assistants, among others, are good examples of some of the tools involved.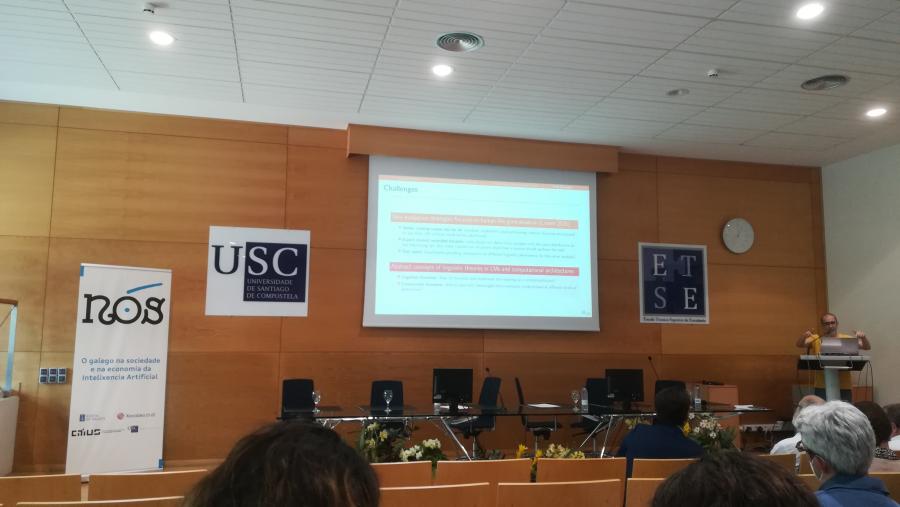 The course introduced the scientific bases of artificial intelligence and language technologies, together with the technological foundations of the applications and resources that add value to them. The lectures were carried out in an accesible, attractive and practical way, highlighting the practical component by conducting workshops for the creation of some of these resources. 
Some of the several existing initiatives at all levels (governmental, academic and business) were also introduced, which have an impact on the interest all languages have in their presence in society, in economy and, therefore, in the digital world. Some representative examples are Proxecto Nós for Galician, Projecte AINA for Catalan, Plan Gaitu for Basque, PERTE en español: Nueva economía de la lengua for Spanish and the other co-official languages in Spain, or European initiatives such as the European Language Equiality projects and CLARIAH.